British Gypsum

Thistle DURA finish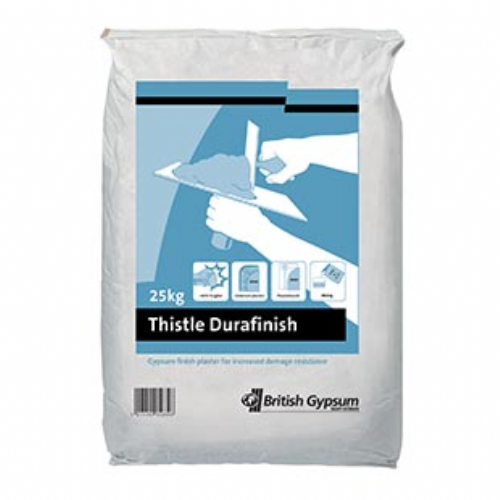 Thistle Durafinish is a gypsum finish plaster specially formulated for increased resistance to accidental damage. It enables significantly longer maintenance intervals and lower long-term cost in heavy traffic areas of many types of building.
It may be used on a wide range of backgrounds, including most undercoat plasters, and to enhance the surface damage resistance of any British Gypsum partition or wall lining system. It is particularly suited to the applications for GypWall EXTREME and GypWall ROBUST.
Applications
Thistle Durafinish is designed for the finishing of a wide range of backgrounds, from low-suction (e.g. Gyproc plasterboards, Glasroc F MULTIBOARD, Glasroc F FIRECASE, Rigidur H, Thistle Dri-Coat, sufficiently flat concrete) through to the medium-to-high suction of gypsum or cement-based undercoat plasters.
Most backgrounds which normally require a bonding agent to provide adhesion can be directly plastered with Thistle Durafinish (e.g. MR plasterboards, cast in-situ concrete, previously plastered surfaces), provided they are clean, sound and reasonably dry.
High suction backgrounds, such as undercoat plasters, require pre-treating with Thistle GypPrime prior to the application of Thistle Durafinish.